Dishes
STARTER
The energy of Mirella's vibrant restaurant is reflected in the variety of options in nightly buffet of appetizers, and in the range of options provided by the chef. From fresh-baked pizzas and focaccia, to local vegetables sautéed in butter, to Ascolan olives, and then rice or whole grain salads, prawns & scallops, vegetables "au gratin", cured meats, and a selection local cheeses with jams and honey. The only difficulty is choosing exactly what to have for dinner!
MAIN COURSES
In the main courses, traditional Alpine cuisine means a choice of: pizzoccheri, gnoc dla cua, risotto with speck and provola, tagliatelle with ham and parmigiano, and spätzle. The magic continues with canederli or alternatively spaghetti in more traditional iterations (sauce, oil, garlic and chili, tomato and basil), trenette al pesto, risotto alla milanese or parmigiana, building up to soups and fresh vegetable purees.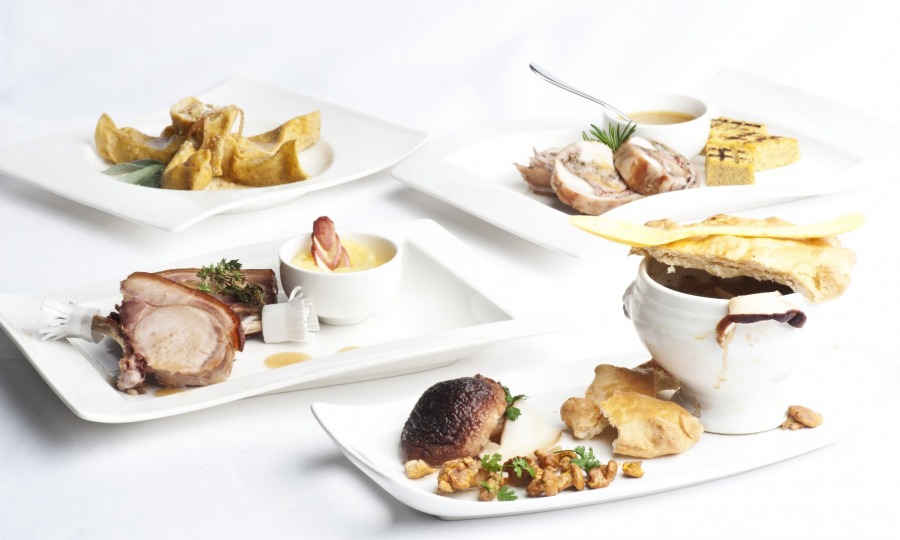 SECOND COURSES
Both classic and contemporary cooking techniques are combined for an unrivaled dining experience. Our chefs make great strides to explore this unique landscape, ensuring that you receive truly authentic signature dishes of the Alpine dining experience: salmì of deer, schnitzel, rabbit alla cacciatora, traditional beef cuts slow-stewed in olive oil and local vegetables. Our fish offerings range from trout to seabass, sole to salmon, and come in everything from simple to more complex preparations, and sometimes even fried.
THE SWEETS
A small variation is applied at lunch: the appetizer buffet is replaced with a diverse buffet of both raw and cooked vegetable dishes. Eating starts with your eyes, but our freshly made foods are a delight for all the senses. Tempting treats like pastries and cakes freshly made at our patisserie will haunt if you don't leave enough space at the end of your meal.